In the municipality of Tavira, families began to prepare the Algarvian Nativity Scene on December 1st, enough time for chickpea and vetch sprouts to germinate.
There were those who only started on the 8th of December, setting up the traditional nativity scene, sometimes nine days before Christmas.
Setting up the nativity scene consists of placing a "little altar" on top of a chest of drawers, usually made with three steps, with the "Baby Jesus" standing on top of it in a vertical position, surrounded by cornflakes and legumes, oranges and other fruits characteristic of the region, such as carob, almond, pomegranate, for wishes of bread and prosperity for the family.
How to build the Algarvian Nativity Scene
The throne

The throne, also known as an altar, a staircase, Penha or charola, imitates the main altar of a church. It can be made with dresser drawers or other house furniture. In times gone by, as an alternative grain measures (wooden boxes) were used. The most common nativity scene is made up of three steps. However, you can add more boxes, getting the altar of the most showy Boy.
Ornamentation of the Throne
The throne should be covered with white fabric – a sheet, lace linen tablecloths, cloths
embroidery, among others. The altar is decorated with products from the land, the most common in the Algarve region, oranges, almonds, figs,… Place the cornflowers, previously sown inside of plates or bowls. Chickpea seeds, oats, barley, peas, lentils, lupins, etc. they were sown, with a little water, in early December to give them time to grow and be placed on the throne on December 8th (Day of Our Lady of Conception).
They were blessed by the Child Jesus "to give much bread to the sowing", being planted in the field after the Christmas party.
Baby Jesus
The images are usually about 20 cm high. The head, made in series, it features a small wave, to enhance the hair, and is slightly flattened. More elaborate images have a larger and more proportionate head. The body always presents a very slender and very imperfect anatomy, as it was to be dress.
The open arms appear arched and one more raised than the other. The hand left is closed and, between his fingers, the Child Jesus holds a sprig of flowers of paper. The right hand is open with cupped fingers.
"The head has a starry tinplate glow".
"The image is placed on top of a wooden cliff. It has the appearance of a parallelepiped, upright, with small undulations (Suggests a throne). Have to height about 10 cm and width 5 cm. The base is cut and has a kind of feet, on the extremities. It is painted in various colors where brown predominates. To facilitate the work, the rock does not have a step, as other craftsmen commonly did.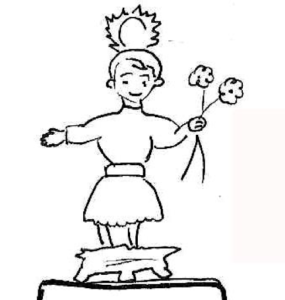 Source: Natal no Algarve Raízes Medievais", 2002, p. 100, Padre José da Cunha Duarte, Edições Colibri, Lisboa