Agros, Cyprus People & Stories
Niki and Georgia Kafkalia
The story of the Cyprus Traditional Products Kafkalia begun in 1978 by Chrysostomos and Elpida Kafkalia, producers of traditional cured meat products in Agros. Their daughters, Niki and Georgia, helped their parents in the family business since they were 7-8 years old.
Since they took over the family business, they reorganized the production process and improved the quality of their products reaching out to a broader market, harmonizing the traditional methods of production to the European health and safety standards.
Both Niki and Georgia are very active as community members: Niki was the first woman to be elected a member of the Agros Community Council and serves, also, as the Secretary of the Associations of Traditional Meat Producers of Pitsilia, while Georgia was the first woman to participate in the Board of Agros Cooperative.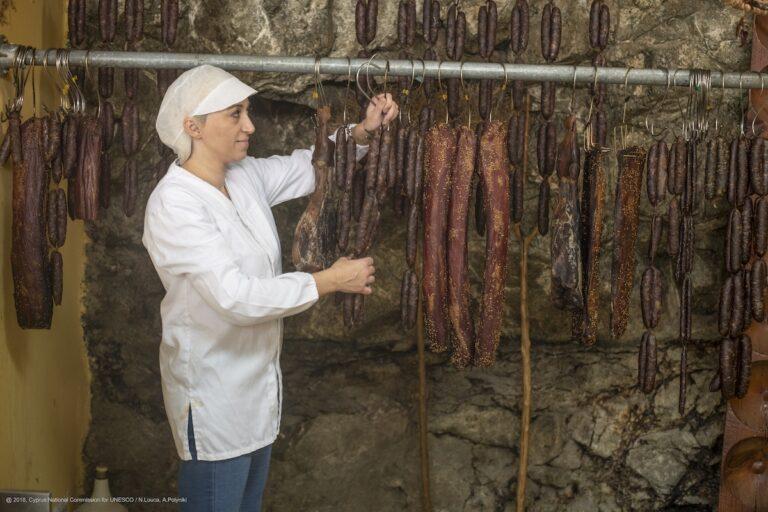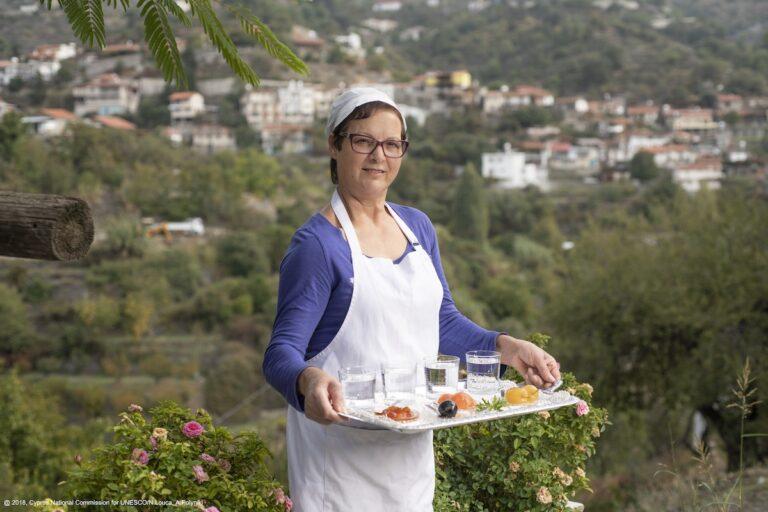 It is a tradition in Cyprus for housewives to offer to their guests homemade 'spoon sweets' (local fruits in syrop: walnut, quince, apple, apricot, bergamot, watermelon, aubergine etc).
Willing to carry on this tradition transmitted by her mother and grandmother, Mrs. Niki used to make 'spoon sweets' and jams for friends and relatives. A few years later, she established her company in Agros, which she gradually improved by introducing new products and methods.
Today the company has more than 60 products and has become one of the most well-known companies in Cyprus for many traditional Cypriot products. It is also worth mentioning that the company offers jobs to more than 30 people from Agros and neighboring communities. In addition, the company buys seasonal fruits and vegetables from local producers, which then processes with respect to the traditional practice, the environment and the consumers' health, as it does not use any artificial preservatives. It has also introduced new products, such as spoon sweets and jams for diabetics.
Tsolakis Family and the Rose Factory
For more than seven decades, the Tsolakis family have cultivated the pink rose of Damascus, extracting rose water and oils used in cooking and cosmetics.
From 1948, Nikodemus Tsolakis dedicated himself to his private rose cultivation and his own production of rosewater, that four decades later he passed on to one of his children.
In the late 1980s, Christakis Tsolakis and his wife, Maria, took over the family business and started up a boutique called "The Rose Factory." Retaining the characteristics of the people of Agros village, imbued with inspiration and with a sincere social and environmental sensitivity, they continue with creativity and responsibility. They modernized the facilities and methods of production, they widened the range of traditional products and opted for bio methods of cultivation.
The third generation of the Tsolakis family, Andrea and Elena Tsolakis have been incorporated in the family business after the end of their studies. Having grown up in a house filled up with roses, their decision for their future was a no-brainer.  Full of knowledge, ingenuity, but above all love for roses they have already set new goals and prospects for the future development of the family tradition.